Reading at Vital Skates Tonight in Indianapolis!
Posted on August 1, 2015
If you're in central Indiana, come celebrate four years of Vital Skates — the Fountain Square skate shop catering to roller derby enthusiasts — with this special book reading event! Author Margot Atwell, aka Em Dash of world champion Gotham Girls Roller Derby, will be in town for a reading from her new book Derby Life: A Crash Course in the Incredible Sport of Roller Derby, along with a Q & A. I will read a short essay I contributed to the book inspired by one of my blog posts. If you play roller derby or just have an interest in the sport, you'll love this unique celebration.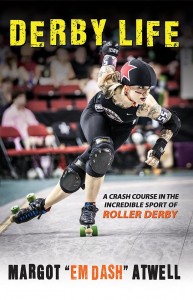 Refreshments will be provided, and all of Vital Skates' merchandise will be available for sale, including skates, gear, T-shirts, wheels and more. Stop in to congratulate Vital owner Korvin Bothwell on four years of business and get insight into the exciting and wonderful world of roller derby!
Doors open at 5 p.m. at Vital, 1022 Virginia Ave., Indianapolis, IN 46203. This is a FREE event. If you're unable to attend, you can purchase this amazing book from Gutpunch Press or from Amazon.