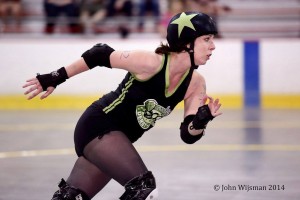 Emily Udell — who formerly skated under the name Vivi Section — plays flat-track roller derby with a WFTDA member league in Indianapolis. Outside of derby, she works as a freelance writer, editor and project manager.
A Chicagoland native, Emily became a fan of derby while writing a feature on the sport during her graduate studies at Northwestern University's Medill School, where she earned a masters of science in journalism in 2006. Despite a longtime interest in derby, it wasn't until 2009 that she strapped on some skates and hit the flat track herself.
Emily has worked for such diverse media outlets as Punk Planet magazine, Radio Prague, the Associated Press and the Louisville Courier-Journal. She also holds an undergraduate degree in literature from the University of Chicago, and is trying to figure out how to write a novel. She has an abundance of interests off the track, including riding her bike, going to the library, drinking bourbon, hanging out with friends, eating donuts, moon watching and documenting the antics of her calico cat named Hazel. This blog attempts to unify her love of derby and the written word.
Have a topic you want to see covered on this blog? Contact Call the Jam here.